Conquer Online Inspired Ninjas Pack Giveaway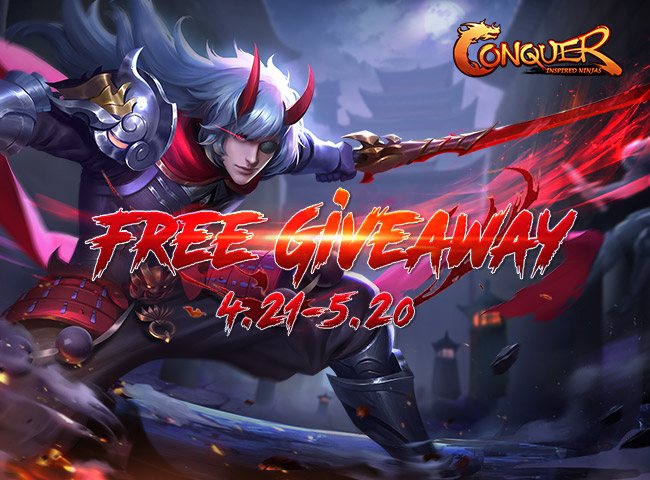 0 Keys Are Left

Conquer Online Inspired Ninjas Pack Giveaway
MMO Game: Conquer Online Inspired Ninjas | Area: Internacional | Official Website: Conquer Online Inspired Ninjas
FINISHED
More
Giveaways
Instructions:
Gameitems.com and NetDragon publisher for Conquer have partnered up to get this Giveaway for the new expansion for Conquer Online Inspired Ninjas Pack Giveaway, starts on April 21st since May 21st .
Key Features about Inspired Ninjas:
1. The dynamic appearance and new skill effects will show you a perfect Japanese Ninja.
2. 35 skills for you to combine and the Ninpo Scroll will boost your power in PK and team fights.
3. There will be a new server special for the Ninja Awakening with many benefits for all players.
(1) All classes will get more universal items and rewards for free.
(2) Ninja will get free growth items for the Ninpo Scroll system.
(3) Old players will get a special set of Ninja equipment along with all other benefits.
(4) New players in the new server will get abundant rewards like a 15-time sign-in card, claiming rewards for free for 15 days, free Ninja equipment and so on.
It's classic. It's newborn! Time to gather your Ninja squad and fight back!
• Inspired Ninjas Newbie Gift Pack
• EXP Ball (B) x 10
• EXP Potion (B) x 5
• Praying Stone (M) (B) x 2
• +2 Stone (B) x 1
• +3 Steed (B) x 1
• Choose one mount armor from Red Deer, Furious Tiger and Bronze Rhinoceros.
• Choose one garment from Dark Wizard, Samurai Legacy and Classic Fashion.
Event Rules:
1. Event Duration: April 21st to May 21st
2. One gift code per account per IP.
3. Only for the new players who have successfully registered during the event.
Step 1. Make sure you never miss a giveaway, follow us on Facebook and Twitter:
Step 2. Complete the captcha, then add your email to the field above (beside the "Get Your Key" button) you can only sign up once for this giveaway. If is the first time you use our system please check your email to validate it and add again the same mail in the field above.
Step 3. Sign up for FREE on
Conquer Online Inspired Ninja
.
Step 4. Download the game and login to create a new character. Click START TO PLAY CO on the event page to download client.
Step 5. Go to
Conquer Online Inspired Ninja Event Page
. Submit your character info and your gift code to claim your gift pack!
Step 6: Login to the game and claim your prizes from your in-game mailbox by clicking on the mailbox button on the top right corner of the game screen.
NOTE: Unfortunately ad blockers may interfere with our site. If you have any issues claiming a key, please disable them and try again or add our website to the list of allowed websites.
Step: Share with your Friends:
About this game:
Conquer Online is a free PVP MMORPG which features Free-to-Play, Skill to Win. Conquer Online will come to its 17th year on May 5. During the 17 years, Conquer Online has drawn a large number of players by virtue of its unique charm. You can choose from 14 awesome classes and become a martial arts master. While exploring the ancient oriental fantasy world, you also can make friends with other players all over the world, organize a guild, and even get married. Complete quests, challenge fierce monsters, enhance gear and finally you'll become the conqueror of the world of fighters. Since launched, Conquer Online has attracted over 10 million players worldwide. Join and prove yourself on the world-class stage now!