Exclusive Presale Special Features of Lucky Punch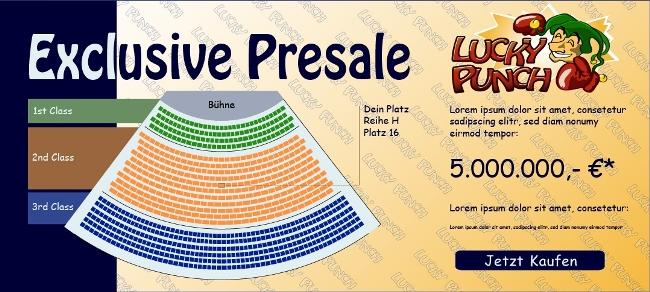 Exclusive Presale Special Features of Lucky Punch
MMO Game: Lucky Punch | Area: Internacional | Official Website: Lucky Punch
FINISHED
More
Giveaways
Instructions:
To celebrate this enourmous step for us, we're offering an advance sale starting October 15th. Players may enjoy these special features:

• no fees for 6 month (all items will be for free)

• gain 3 exclusive items – no one else can get them

• play the game prior to anybody else (November 15th)

• this includes beta testing and and the g.labs launch party

• special attention to user support and feedback

These features can be accessed by purchasing one of the limited advance sale seats from the theatre hall, as seen in the attached LP_VVK_Ticket.jpg. The price per seat ranges from 30 Euro to 100 Euro and determines the extent of the feature package.

Once Lucky Punch is officially released on December 1st, premium partners will be awarded with the following features that are withhold from normal partners:

• special conditions: 50% net-revenue-share

• exclusive branding (e.g. unique items and colouring the game in your company colours)

• support requests from your users gain preferential treatment

• custom-tailored follow-up campaigns, specials and contests



Create an account here

Step: Share with your Friends:
About this game:
Lucky Punch is an entertaining and amusing free-2-play browsergame based on a new battle and skill system. The player is able to skill his/her avatar by completing quests and performing altered fairy tales.