Farmerama Free Pack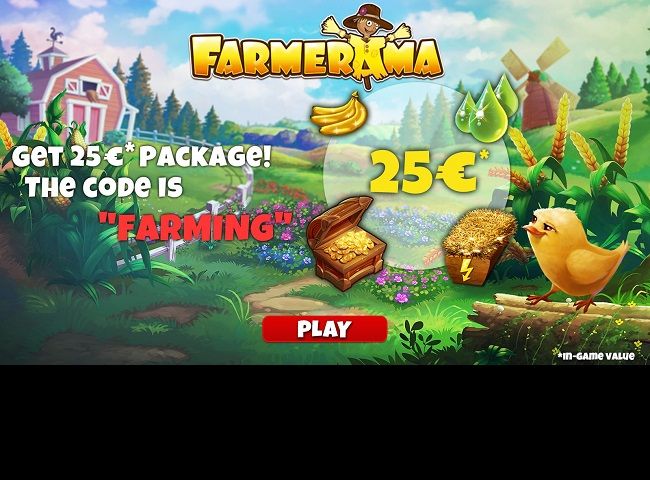 Farmerama Free Pack
MMO Game: Farmerama | Area: Internacional | Official Website: Farmerama
FINISHED
More
Giveaways
Instructions:
Gameitems.com and BigPoint with Farmerama, offer this Free item giveaway. The code it's works until 30 Jul 2019, the value of the package is 25 Euros.
The codes are valid for both new users and already existing ones who have created their accounts through our websites.
The Pack includes:
- stars 20
- goldenbanana 15
- superdung 90
- susisuperdung 90
- treedung 90
- superfutter 90
- cR 50
- snail_upgrade_0 1
- lion_upgrade_0 1
Step 1. Make sure you never miss a giveaway, follow us on Facebook and Twitter:
Step 2. Sign up for FREE on
Farmerama
.
Step 3. Log into your account, go to your main farm and click on the button "?!" in the top right corner of the page. Click on the button "Bonus code" at the bottom.
Step 4. Enter the Bonus code and click the green button to confirm. The bonus items will be booked to your account right away. The code is FARMING.
NOTE: Unfortunately ad blockers may interfere with our site. If you have any issues claiming a key, please disable them and try again or add our website to the list of allowed websites.
Step: Share with your Friends:
About this game:
Farmerama - Definitely my favourite free to play sim game. It has been heavily played and once got around 400,000 players online on a daily basis. Plant crops in the fields, raise animals, trade with neighbors or in your city life for a taster of the country, and so on. It makes me feel like a real farmer to build and manage my own farm into a successful agricultural enterprise. The goal in Farmerama is very simple, make (virtual) money and climb up the ranking of the best farmers. I think those who enjoy Farmville will love this game, coz it is much funnier and really worth playing.