GG Empire Free items for Easter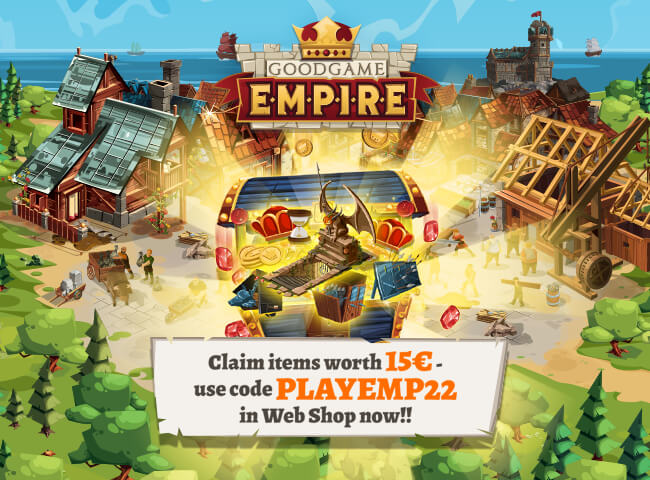 GG Empire Free items for Easter
MMO Game: GoodGame Empire | Area: International | Official Website: GoodGame Empire
Instructions:
Gameitems and GoodGame Studios partnered to offer this FREE item giveaway for Good Empire to celebrates Easter holidays, for all the new players and win these nice items for FREE, value 15€.
FREE Items for GG Empire browser game;
• Deco: HeadmansLair – Headsman's Lair – 1 – 1586
• VIP Points – 3000
• VIP Time 1 day – 2
• FREE coins – 5000
• Tool: Elite Leadder – Brreaching Tower -500 – 649
• Tool: Eliste Ram – Heavy Ram – 500 – 648
• Tool: Eliste Shieds – Shied Wall – 500 - 651

The Giveaway from 1st April end on 23th April

Step 1. Make sure you never miss a giveaway, follow us on Facebook, Instagram and Twitter:
Gameitems.com Facebook

Gameitems.com Twitter

Gameitems.com Instagram

Step 2. Sign up for FREE or login on Goodgame Empire and login.

Step 4. Finish the tutorial, enter the in-game web shop and enter the Voucher code for our websites you see on the image, PLAYEMP22.

Step: Share with your Friends:

About this game:
Goodgame Empire (known as Empire: Four Kingdoms on Android and iOS) is a free to play Castle management war strategy MMO that can be played directly in your Internet browser with a quick and easy signup process. Players start as the ruler of their own small Castle and with a little help from some notable characters will earn resources, construct buildings, raise an army and expand their borders to conquer evil Robber Barons and even players. Complete a variety of quests and challenges to earn XP and level up unlock new buildings and features within the game.