Kingory Facebook Launch Gift Key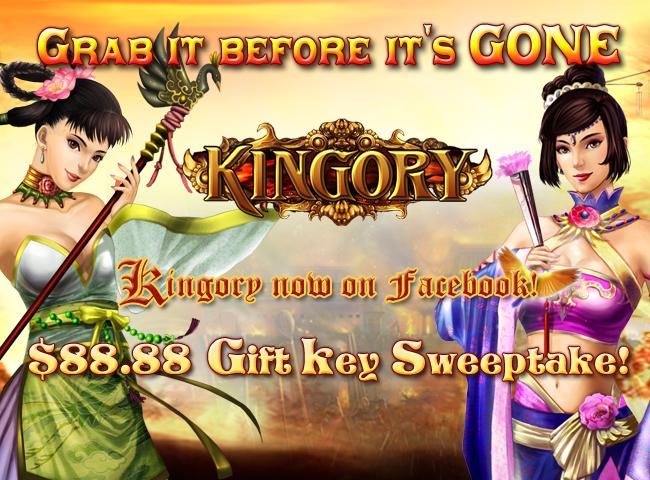 0 Keys Are Left

Kingory Facebook Launch Gift Key
MMO Game: Kingory | Area: International | Official Website: Kingory
FINISHED
More
Giveaways
Instructions:


How to claim my gift code?
Important Note: The Gift Pack Code is only valid for the Kingory Facebook Version. Each account can only use one gift code.
1. You will see a list of events that are currently being held at GameItems, please find and click on:

Kingory Facebook Launch $88.88 Gift Key Sweeptake
2. Once you have obtained your Kingory Facebook gift code, visit the official game FB APP: Kingory. Youíve got to have a Facebook account to access the game APP.

Be warned: Kingory APP versionís official launch date is 12am EST (9am PST), April 13th. For fairplay, beta accounts will be cleared before the official launch. If you donít wish to lose your items, plz wait a while till the official launch, thx a lot!


Step: Share with your Friends:
About this game:
Kingory Facebook Launch $88.88 Gift Key Sweeptake
Great news to gamers out there: now you can play Kingory not only on our portal (kingory), but also inside Facebook!
To celebrate the grand launch of Kingoryís Facebook APP version, GameItems and Kingory (Kingory) are proud to announce a fantastic new event for anyone who enjoys a game of f2p browser-based MMORTS. Kingoryís set in an ancient Oriental land rife with truceless wars and battles. You play the role of a Lord who starts out in a small city and, if you possess the heart of a lion and the wits of a fox, you can eventually rule the world as a King. Experience history while you make history!
We have 1,000 gift packages to giveaway on our KDS (Key Distribution System). In order to claim your code, please ensure you a valid account at GameItems.
Each pack contains the following items:

Head-Equipment Chest *1, Neck-Equipment Chest *1, Shoulder-Equipment Chest *1, Chest-Equipment Chest *1, Back-Equipment Chest *1, Waist-Equipment Chest *1, Arm-Equipment Chest *1, Foot-Equipment Chest *1, Finger-Equipment Chest *1, Trinket-Equipment Chest *1, Weapon-Equipment Chest *1, Rein *1