MAT LIMTED TIME OFFER! Giveaway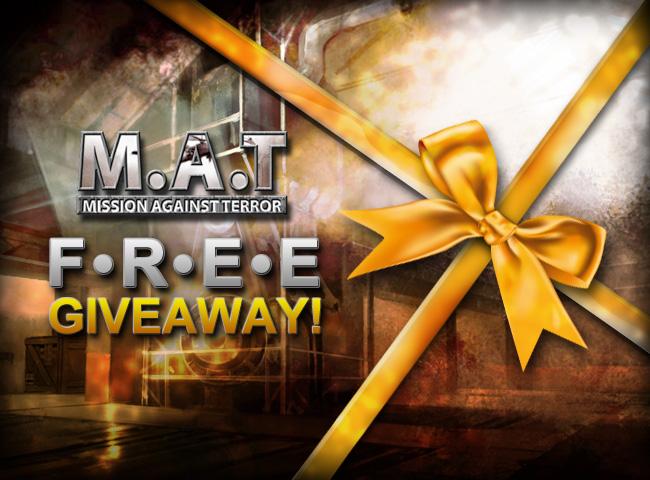 0 Keys Are Left

MAT LIMTED TIME OFFER! Giveaway
MMO Game: MAT - Mission Against Terror | Area: International | Official Website: MAT - Mission Against Terror
FINISHED
More
Giveaways
Instructions:
Subagemes and FreeMMORPGlist.Com, MMOReviews.Com, F2P.Com, GratisMMORPG.De, MMORPG Gratis.Com , JuegaenRed.Com, MMOGratuit.Com, MMOGratis.Com and GiochiMMO.it

LIMTED TIME OFFER! The time has arrived for all you FPS players our there. Selected new-comers will be able to take advantage

of this limited promotion. New players will be able to sign up for a MAT account and redeem a

promotion code worth 1,000 Suba Points! With 1,000 Suba POints you can get access to some pretty cool items like the

Nightfall Police Uniform and the Desert Eagle! Don't miss out on this exclusive offer!! Get your key now!
How to Redeem your Gift Key:
1. Visit Suba Games' MAT homepage (Here) to register an account.

2. Enter the Gift Key in the redemption box (The Suba Points will be automatically added to your account)

3. Download and Install the client, open the game and get started!
Step: Share with your Friends:
About this game:
Mission Against Terror(MAT) is a free to play first person shooter(FPS) set in a fictional time not far from our own, pitting two teams against each other all around the world. From the male civilian with a vengeance to a war-torn female soldier with something to prove, characters from all walks of life come together to fight for a common goal. Fueled by a wide array of real-world weaponry from practical assault rifles to massive gatling guns, MAT will be the next big player in online first person shooters.
Those who are looking for a serious shooter will be glad to know that MAT was the only first person shooter game good enough to be sanctioned for tournament play in 2009 by the China Electrical Gaming Committee; a nationwide online gaming tournament organizer under the All-China Sports Federation. Take part in deathmatch and team deathmatch modes along with the tried and true formula of elimination-style tournament play and the highly popular bombing mode.
Those who are looking for a less-serious shooter will be kept fairly busy as well with a variety of crazy, white-knuckled game types. Mummy mode offers an intense survival horror experience where a team of humans are confronted by ancient Egyptian mummies who have risen from the dead and are out for blood! Also available is the phantom mode, a spinoff of the bombing mode where the bombing team are highly translucent ghosts that are restricted to melee attacks only, as well as the terminator mode which pits humans against an onslaught of robot(A.I.) attackers and the craziest of them all, the tank mode where players can pilot armored tanks capable of massive destruction.
Can't resolve your issues out on the battlefield? Join the virtual bar for dances and romances that await you! Even the most hardened soldier needs to relax and relieve stress every once and awhile. For the troublemakers at heart, picking fights in the virtual bar is both welcomed and sanctioned via the official regulation-sized MAT boxing ring! Bar patrons can watch the fight at ringside or on the big screen as two players duke it out for nine rounds with their fists of fury.
Complementing the exciting action of MAT are customizable characters that can be outfitted with a variety of clothing options, an item shop that contains everything a soldier needs out in the battlefield, and full Dolby™ 3D sound support including state-of-the-art Dolby Axon™ technology which enables the ability to modulate your voice in real-time to change the way other players hear you in glorious surround-sound.