Metin 2 Giveaway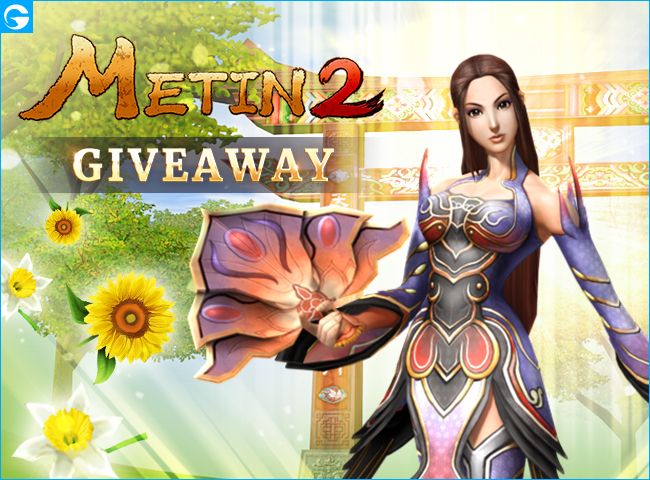 0 Keys Are Left

Metin 2 Giveaway
MMO Game: Metin2 | Area: Internacional | Official Website: Metin2
FINISHED
More
Giveaways
Instructions:
Gameitems.com and Gameforge / Palado with Metin2, offer this Free item giveaway for this classic MMORPG, redeem the codes until 7th October.
This key contains the following free items:
Name
Level 1 class armor +9
Robin
Equus Porphyreus
Sun Elixir (L)
Moon Elixir (L)
Auto-Hunting
Third Hand
Teleportation Ring
Trading Glass
Level 1 class armor +9
Class Item
Warrior Monk Plate Armour+9
Ninja Azure Suit+9
Shaman Crimson Clothing+9
Sura Requiem Plate Armour+9
Lycan Divine Wind Armour+9
Step 1. Make sure you never miss a giveaway, follow us on Facebook and Twitter:
Step 2. Complete the captcha, then add your email to the field above (beside the "Get Your Key" button) you can only sign up once for this giveaway. If is the first time you use our system please check your email to validate it and add again the same mail in the field above.
Step 3. Sign up for FREE on
Metin2
and login please you need to login or create one account .
Step 4. For redeem the codes;
1. Open shop
2. Expand the menu (top-right section)
3. Click on "redeem code" -> Please note: You must select the wished character first before you redeem the code! Items can't be shifted to another character after redeeming
4. Type in your code and click "Redeem"
5. If the code is valid, you'll see a delivery confirmation
6. The Items are available in the Item Storage of your Character
NOTE: Unfortunately ad blockers may interfere with our site. If you have any issues claiming a key, please disable them and try again or add our website to the list of allowed websites.
Step: Share with your Friends:
About this game:
GENERAL INFORMATION about Metin 2
• Client-based MMORPG
• Oriental Action MMO
• Developer: Webzen
• Publisher: Gameforge
• Key features:
o With the dynamic combat system, players can hit multiple enemies with a single powerful blow and conduct lightning fast attacks
o PvP and PvE are possible
o Players can choose between different mounts and pets
o Guild system