Seafight Atlantis Free Giveaway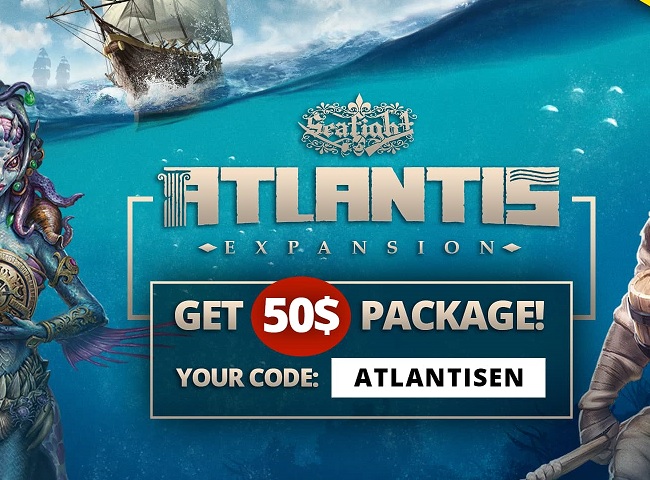 Seafight Atlantis Free Giveaway
MMO Game: Seafight | Area: International | Official Website: Seafight
Instructions:
Gameitems, BigPoint partnered to offer this FREE Giveaway for all the players for Seafight;
Experience the most exciting content expansion to ever hit Seafight's Seven Seas as you explore the legendary city of Atlantis in your trusty submarine! Dive into 9 brand new maps BELOW the surface of the water and discover the world of Seafight from a whole new perspective.

To celebrate this epic update, we've created an incredible voucher code worth €50, bursting to the brim with brand new items:

Code: ATLANTISEN

*valid until 20th November, 2022

• 150,000x Pearls
• 60,000x Crowns
• 6,000x Yulong Coins
• 4,000x Safanad Coins
• 1,500x Orichalcum - NEW!
• 7 days Submarine Cook Level 3 - NEW!
• 7 days Submarine Technician Level 3 - NEW!
• 2x King's Deepsea Bag - NEW!
• 1,500x Tempest II - NEW!
• 500x Gimlet I - NEW!
• 500x Claymore II - NEW!
• 6 Refitted Hull Sections Level 1 - NEW!
• 12x Extra Valves Level 2 - NEW!
• 1x Atlantean Drive MKII - NEW!
• 1x Silent Run MKII - NEW!

Step 1. Make sure you never miss a giveaway, follow us on Facebook, Instagram and Twitter:
Gameitems.com Facebook

Gameitems.com Twitter

Gameitems.com Instagram

Step 2. Create an account on Seafight ar login.

Step 3. One logged, please, Go to the "Market Cove" after to "Redeem voucher" , and redeem your code there.

Note; The code only will work if the player registered with the link you see on the post (new player or not, but must to be used our link)

Step: Share with your Friends:

About this game:
Seafight - The phenomenal online pirate adventure
Seafight: an absolute highlight among MMORPGs
Come on board yer ship, pirate, and be swept away by the beautiful horizon and sea. But don't be fooled by this MMORPG's idyllic scenery - a cutthroat life awaits ye in Seafight, the MMORPG with all the pirate trimmings: plundering, conquering and murdering. Defeat vicious and dangerous scoundrels in this pirate game. And stay on guard: Danger lurks everywhere. There be giant sea monsters swimming in the treacherous waters of this online pirate game. Experience and tactical skill will keep ye on course, but only if ye know how to interpret the signs properly in this MMORPG.
Yer ship is yer sanctuary, yer empire, yer fortress. Turn it into a stronghold and defend it with all yer might. After all, what's a pirate without his ship in this MMORPG? A nobody, a good-for-nothing! If ye want to be respected, stock up yer ship and teach yer enemies the true meaning of fear!
Only the most cunning pirates will conquer the Seven Seas of the pirate game Seafight. MMORPGs like this are few and far between, and Seafight is the undisputed leader of the pack. Hoist the Jolly Roger and fight against thousands of real pirates for fame, wealth and freedom: Rule the oceans in Seafight, the online pirate game.
Online games, Browser games, Game online, War games, MMORPG online, Online fantasy game, Battleship, Strategy games.