Shaiya Free Code Giveaway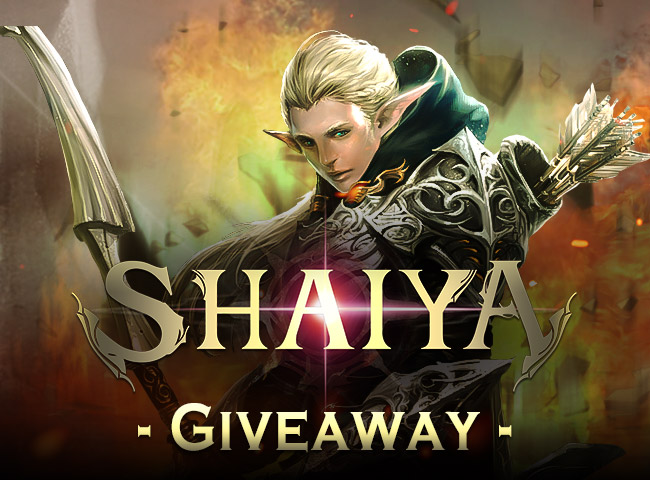 0 Keys Are Left

Shaiya Free Code Giveaway
MMO Game: Shaiya | Area: English Servers | Official Website: Shaiya
FINISHED
More
Giveaways
Instructions:
Gameitems and Gamigo partnered to offer this giveaway for Shaiya for FREE.
Pack Includes:
x1 Resurrection Rune
Resurrect in the nearest town or dead point with 50 percent of HP, SP, MP. For Ultimate Mode characters, they will resurrect in the town automatically. Restricted to characters in possession.
x1 Double Warehouse
Doubles the warehouse size for 30 days on this character ONLY. After 30 days, items can still be seen but not removed from the warehouse until used again. Restricted to characters currently in use.
x1 Large Increase EXP
Obtains 1.5 times EXP for 30 days, and effect remains even after death. Max EXP cannot exceed 200 percent. Restricted to characters currently in use.
x1 Drogon (30d)
He may still be young, but watch out for his bite! All Stats +15. This pet will automatically collect items and gold for you. (Lasts 30 days item bound to character.)
Step 1. Make sure you never miss a giveaway, follow us on Facebook, Instagram and Twitter:
Gameitems.com Facebook
Gameitems.com Twitter
Gameitems.com Instagram
Step 2. Complete the captcha, then add your email to the field above (beside the "Get Your Key" button) you can only sign up once for this giveaway. If is the first time you use our system please check your email to validate it and add again the same mail in the field above.
Step 3. Sign up for FREE on our relative game page
Shaiya
after make the registration go to the step 4
Step 3: And follow the instructions on
Shaiya reedem page codes
Step: Share with your Friends:
About this game:
Shaiya is a 3D Fantasy MMORPG Free-to-Play that allows you to slay terrible beasts and wield hundreds of powerful weapons, but also offers an Ultimate game mode, in which death is permanent. Destroy, Conquer and Dominate. That's the mantra of Shaiya, the world's first perma-death MMORPG. Experience industry-leading RvR and PvP systems in huge and epic faction-based wars, explore an expansive, dynamic world full of epic quests and gear, and fight for survival in permanent death mode with greater challenges and rewards!