Skyforge CB4 Raffle Giveaway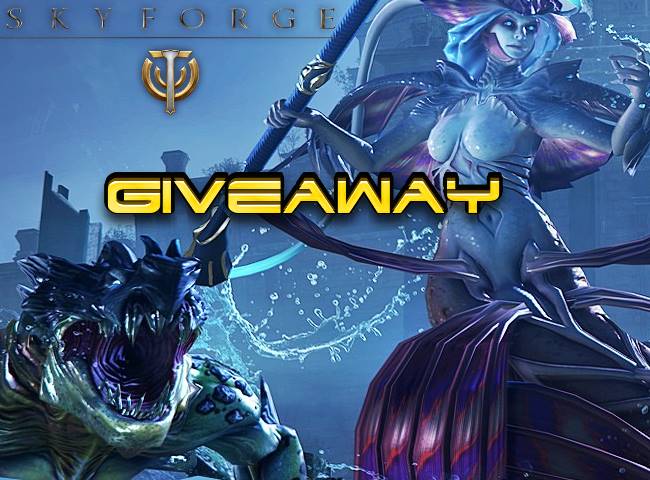 0 Keys Are Left

Skyforge CB4 Raffle Giveaway
MMO Game: Skyforge | Area: International | Official Website: Skyforge
FINISHED
More
Giveaways
Instructions:
My.com publisher for Skyforge in collaboration with
FreeMMORPGlist.Com
,
MMOReviews.Com
,
F2P.Com
,
GratisMMORPG.De
,
MMORPG Gratis.Com
,
JuegaenRed.Com
,
MMOGratuit.Com
,
MMOGratis.Com
and
GiochiMMO.it
offering this raffle for CBT4 for Skyforge. The CB4 Test of Skyforge that will take place on June 23-29 and will give all players exclusive access to two high-tier classes, Knight and Alchemist, during this test. To celebrate this final beta stage, the number of Closed Beta testers will be significantly increased.
This raffle will feature 3000 codes and there will be only 500 winning beta code. 2500 codes will say "You don't win", so you know you are not a winner. If you get a winning code, your code will say "You win-CB-the code" .
We will add the codes today at 8 pm CEST (3 PM EST+2)(25th June 2015)
Besides instant access to the Knight and Alchemist classes, players will have an opportunity to check out a number of considerable changes which have been made based on internal data, bug reports and feedback gained during previous beta tests. As a result, the team has made several thousand fixes and changes to Skyforge since the end of CBT3. To present them in CBT4, the new build of the game will be delivered and a progress wipe will be made. Some of the major highlights, updates and features available in CBT4 include:
- (CBT4 Only) Exclusive instant access to two high-tier classes, Knight and Alchemist – Players will get a chance to try the high tier classes available only in the upper ascension atlas. While Knight is a powerful tank class armed with a shield and spear, the Alchemist is a support class – a half-mad scientist with corrosive chemical compounds, invigorating elixirs and portable an alchemy laboratory affixed to his back which is equipped with manipulators that can spray acid and fire at enemies;
- Client Optimization – The data collected during the previous CBTs helped to improve the game's optimization and provide support for more configuration types. Also, we succeeded in improving maximum FPS by up to 30% compared to when we initially started the Closed Beta;
- Orders and Followers – Since this is one of the most important parts of the game, we put a lot of our effort into improving the user experience and as a result, during CBT4 you will find considerable changes in the way of managing followers and their resources;
- PVE and PVP adventures – Big changes were made for different aspects of gameplay. The difficulty level of adventures now can be chosen by the player after they've unlocked them. There will be no more prestige limitations between players who want to participate in adventures as a group, with players receiving rewards based on the range of the group's prestige.
Grouping with others for adventures is now easier than ever, with recently vacated spots being automatically filled with new players during the adventure. Players can now automatically search for others interested in tackling PVE adventures, so if players don't have a group they can choose to be matched with others automatically. For 5-man group adventures, pre-formed groups can now enter regardless of class makeup.
In PvP, we identified some issues with our matchmaking system and have optimized how players are grouped for battle in order to make it easier to find matches.
- Ascension Atlas – The Ascension Atlas has been changed in order to promote a more streamlined experience, allowing the upper portions of the Atlas to be unlocked by players sooner, enabling them to more quickly progress towards other classes. The interface of the Ascension Atlas has also been changed to be much cleaner and easier to look at.
- Classes – Along with the addition of 3 new classes, progression through each class has been streamlined to enable players to progress while still progressing through the upper layers of the Ascension Atlas.
Outside of the initial talents and abilities, classes now use their own unique class sparks to progress. This way you no longer need to choose between advancing one class or progressing towards others.
- Pantheons – We have finally added Pantheons in CBT4, allowing players to create their own or join others. Many of the features Pantheons provide will not be accessible in the timeframe of CBT4, however. Those will come in OBT!
- Equipment – During previous closed beta's players showed an interest in being able to acquire additional pieces of equipment. With that in mind, we have added Amulets and Trophies which provide four and two new equipment slots respectively.
- Portal – Skyforge's new, all-inclusive web interface, the portal provides integration with the game including a forum, chatting with players that are in the game, viewing your items or equipment, a talent calculator, managing your Order, and more. While not all of these features will be readily available during CBT4 they will be made accessible as we move through OBT.
- UI – A large portion of the UI has seen changes to improve readability. Some of these changes include the Skill, Order, Equipment and Options menus.
- Chat – Skyforge's chat system is a feature which received a lot of feedback during previous closed beta tests and using this information we have made improvements to the interface. The chat is now more in line with the chat systems found in other games, resulting in a much simpler and user friendly chat experience.
- Character creation – Character creation has seen many additions and general fine tuning for personalizing your character. Some of these additions include the ability to select a voice for your character and choose from a variety of facial tattoos.
Step 1. Make sure you never miss a giveaway, follow us on Facebook and Twitter:
.
Step 2. Complete the captcha, then add your email to the field above (beside the "Get Your Key" button) you can only sign up once for this giveaway. If is the first time you use our system please check your email to validate it and add again the same mail in the field above.
Step 3. Go to
Skyforge
create an account at Skyforge and download the game.

Step 4. Then redeem the code in your account and you will get the icon with a key image.


Step: Share with your Friends:


About this game:
Skyforge is a free to play fantasy-based MMORPG that features cinematic and action focused combat. It offers several playable classes and players can switch between them when they want.