War of 2010 Key Giveaway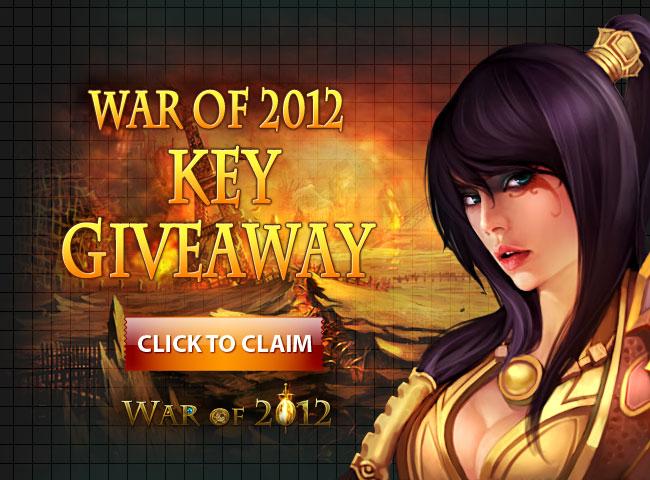 0 Keys Are Left

War of 2010 Key Giveaway
MMO Game: War of 2010 | Area: International | Official Website: War of 2010
FINISHED
More
Giveaways
Instructions:
Step 1, Register at War Of 2012 to create an account on any server of 2012 (If you already own an account, you can skip to Step 2)

Step 2, Login the game, and you will reach the interface below:

Step 3, Click the "Shop"

Step 4, This will open the Shop Page, then select "Cards". On this page, you may claim rewards.

Step 5, After you input the key you own, then click "Get Rewards", and you will claim a reward.
Note:

1. A Key is limited to one account per server, but you can choose to apply a key on any 2012 live server. (If you get more than 1 key and you only play on a single server, then we suggest you create an account on other server to redeem rewards or give the keys to friends who play the game as well.)

2. There is no time requirement to claim the rewards; you can redeem a valid key on an active War of 2012 server at anytime.



War of 2012 Key Giveaway

Only 200 Available

Enter to Win


Step: Share with your Friends:
About this game:
War of 2012 is a browser based SLG game and is free to play. One starts out in the game from the Dark Age with basic city research and development. Battle tactics and strategy, as well as smart city management will allow players to move into the Castle Age and eventually the Imperial Age as they develop. Between advancing through the ages, players can discover new city styles, heroes, and powerful items are able to be promoted to higher levels. Players not only need an excellent system of management techniques and quick methods of development to keep up with others, they but also should have a prospective eye to find ambitious but helpful allies. 2012 is very social, especially when it comes to the Temple Arena Challenge. Meanwhile, players should have a sharp eye for talent when choosing allies or friends, as friends may betray each other in the struggle for power. Just pay close attention so that you don't end up with a spy in your alliance or friends list. You can build your own history and reputation in War of 2012. All of this and so much more await your command!