Winter Holiday Giveaway - Special Beginner's Megapack for Runes Of Magic Only for US Servers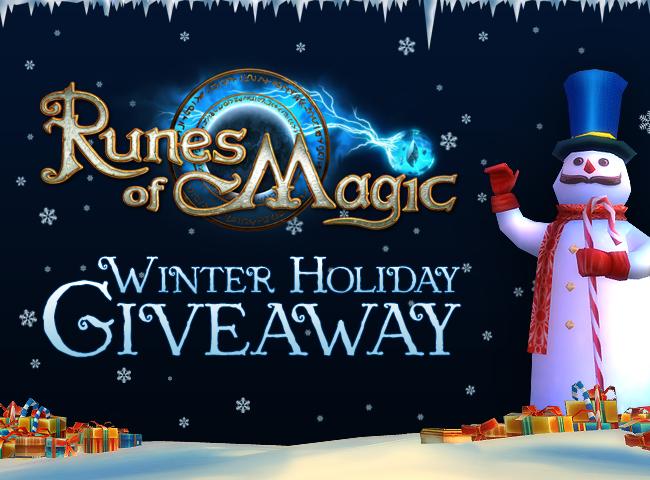 0 Keys Are Left

Winter Holiday Giveaway - Special Beginner's Megapack for Runes Of Magic Only for US Servers
MMO Game: Runes Of Magic | Area: USA | Official Website: Runes Of Magic
FINISHED
More
Giveaways
Instructions:
Follow us in Facebook: .
Runes of Magic's Winter Holiday FreeMMORPGlist.Com , MMOReviews.Com and F2P.Com .

To celebrate the chilly winter holiday season, the Runes of Magic team is giving away free gift codes (one code per game account). Each code can be redeemed for one Special Online Package, which contains goodies that will help Runes of Magic players level up their experience and talent points faster. There is also a bonus Golden Marmoset pet to keep you company. The package also contains items such as a 7 day Flying Rune Disk mount and potions.

As a special bonus, 150 randomly selected players who redeem the Special Online Package will win a Beginner's Megapack! To find out more info about the package's contents, please check out the video in www.mmohdtv.com . Frogster America will select these winners starting January 17th. To be eligible to win, players must reach at least level 20 using the in-game character they used to redeem the Special Online Package. New to Runes of Magic? Sign up here and play! Happy Holidays!
Redeeming the Key
1. Redeem your key on the Runes of Magic homepage by going to the "Redeem Key" link located on the side (or ckick here here) and enter your account information and redeemable key, then click "Submit".

2. Check your registered email address to find your gift code ID and password for your Perfect Experience Package.

3. Log into your account and character, then click the "Item Shop" button on the lower right hand side or press "/" key to open the Item Shop menu.

4. Click the "Redeem Voucher" button on the top left side of the Item Shop menu.

5. Enter the voucher ID and password. Check your Item Shop Backpack for your Perfect Experience Package and enjoy!


Step: Share with your Friends:
About this game:
Runes of Magic is an award-winning fantasy F2P MMORPG where players create powerful, dual-class characters and explore the exciting world of Taborea. With unparalleled customization and more than 2,000 quests, Runes of Magic sets a new standard for free-to-play titles and is sure to be popular for years to come.